18th Container Off to Chad!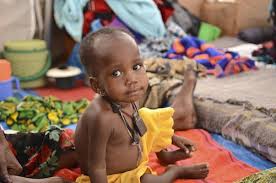 Food For Famine Society is proud to announce that our 18th shipping container is en route to Chad!  It left Georgia, USA at the beginning of May and is due to arrive in N'Djamena on August 3rd.  N'Djamena is the capital city of Chad, with a population of 1,605,696 as of 2012. A port on the Chari River, it directly faces the Cameroonian town of Kousséri, to which the city is connected by a bridge. It is also a special statute region, divided into 10 arrondissements. It is a regional market for livestock, salt, dates, and grains. Meat, fish and cotton processing are the chief industries, and the city continues to serve as the center of economic activity in Chad. Our 900 boxes of Ready-to-Use Therapeutic Food will be sent out to World Vision's ground teams to the remote villages and children who need it most.
 Note: If you like technology as much as we do, you can track the actual ship our 900 boxes are on by clicking here!