58 Containers & Counting!
Hard to believe that we are announcing our 58th container of Ready-to-Use Therapeutic Food (RUTF) overseas to date!  Our team was doing the math today and that equates to an incredible 52,200 children's lives saved since 2012!
Learn more about the benefits of RUTF by clicking here.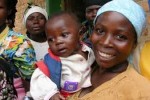 A huge thank you going out to Active For Good who donated an entire container, bringing Food For Famine's efforts from 57 to 58 in total. If you missed seeing what these energetic students did to raise money for RUTF, click on the video below!  If your organization wants to get involved, connect with us today!