31 Containers & Counting!
We are so proud to announce that we are up to a total of 31 shipping containers of Ready-to-Use Therapeutic Food (RUTF) going to children in need!  Working with our fantastic partners on the ground level in many countries devastated by drought, war and famine, we are helping malnourished children and their families gain access to our life-changing RUTF.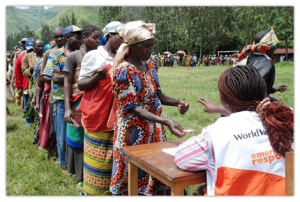 Every once in awhile, we receive Impact Reports from our partners at World Vision Canada. This fall we received an amazing story about a little girl named Helena. Helena is nine months old and she lives with her family in the city of Mbua Hehongo-Curoca, in the Cunene municipality. Walikohi is Helena's mother, who at the age of 18, is already a mother of three daughters and two sons. Helena's father has abandoned the family and her mother, who is unemployed, has been struggling to provide for Helena and her siblings. Helena and her family live with her grandmother and nine other relatives. Helena's grandmother is a casual worker, but she does not earn enough money to provide for her entire household.
Having gone through the experience of watching her two elder daughters suffered from severe malnutrition, Helena's mother was able to recognize that Helena also was suffering from the same fate.
Helena's mother took her to the local health post for assessment and the health worker confirmed that Helen was suffering from severe acute malnutrition. Thankfully, Helena was selected to receive a four week treatment of RUTF in June 2016. Before her treatment, Helena's Mid-Upper Arm Circumference was measured at 9cm, qualifying her within the severely malnourished category. After the four week treatment, Helena's Mid-Upper Arm Circumference increased to 12cm, putting her in the moderately malnourished category; a vast improvement from her starting point. "Thank you for helping my children, I can sleep well now" says Helena's mother.