Heritage Woods Secondary School Students For The Win!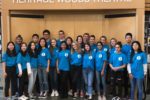 In recognition of World Food Day, the Students at Heritage Woods Secondary School are taking action by challenging their peers to exercise in order to save lives of children in developing countries. Last year, they were the first in Canada to participate in the Move 4 MANA initiative. In collaboration with World Vision Canada and Food For Famine Society, the students use an app to track their activity for one month. For every 500 calories burned, a packet of ready to use therapeutic food called MANA will be donated to a child in need. Last year the school saved 106 lives and this year they would like to save even more.
We would like to extend this opportunity to schools across B.C to participate in this life saving challenge and we need your help in promoting this unique event to help inspire other schools to take up the cause to end world hunger!
On behalf of the #Move4MANA team, we are asking for your support in spreading this initiative to save lives and promote fitness in youth across Canada.
If you are interested in covering their initiative this October 16, 2018, please review the Heritage Woods Press Release and their promotional video.