Lifesaving work in Burundi
A CRISIS
Every year, malnutrition kills five million children, one child every six seconds. In Burundi, one of the poorest countries in the world, nearly 1 million children under age 5 are chronically malnourished. A combination of massive loss of crops and livestock has contributed to food shortages. Mothers are unable to provide nourishing meals for their children. As a result, children are underweight, develop painful conditions, become stunted or even worse, die.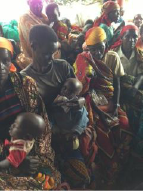 IN RESPONSE
With your support Food for Famine's generous donation of Ready-to-Use Therapeutic Food (RUTF) has helped provide much needed hope to some of these children, families and communities. RUTF has proven to be the most effective way in treating severe malnutrition and in saving children's lives.
Thanks to your generous support 683 cartons of RUTF vitamin enriched peanut-paste was distributed to a total of 12 therapeutic feeding centers across the country.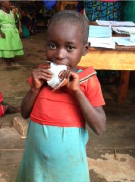 A total of 31,500 sachets of RUTF have already been distributed in Rutegama, a rural community an hour from Burundi's capital city. Each week at the local nutrition center, children are assessed, weighed, and given treatment of RUTF. To date, 754 children have been treated and are on the RUTF regimen. Children who have received the RUTF are assessed by trained health personnel and admitted to the nutrition center.
In addition to providing RUTF, community health workers also offer parents and caregivers daily lessons on appropriate feeding practices, childcare and hygiene.
Shurweryimana is 12 months old. His mother passed away due to health complications and everyone feared that he too would suffer the same fate. His grandmother stepped in to take care of him, but lost hope as she did not know how to help him. He was severely malnourished but could not and would not eat. It was as if his body had shut down. Thankfully, a community volunteer encouraged the grandmother to visit the local nutrition center in Rutegama to see if perhaps he could be treated there. That visit saved his life.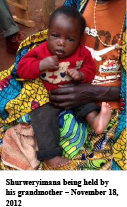 Shurweryimana was assessed by the nutrition specialist and was immediately treated with RUTF and started on the RUTF regimen. The effects of the treatment were noticed instantly. His grandmother attests that he literally bounced back to life. His weight began to increase and he developed a regular appetite. In June when he began treatment, he weighed a mere 3 kilos. However, after the treatment, he now weighs much healthier 7.5 kilos. He now also eats fruits, vegetables and drinks milk. He has even started to speak. These simple activities seemed near impossible for him to do a few months ago, and now they are just part of his daily routine.
When asked how the RUTF has changed his life, Shurweryimana's grandmother expressed that now there are possibilities, where before there were not. She has bared witness to his remarkable recovery and is grateful for the arrival of RUTF.
Shurweryimana's story is just one example of how the arrival of RUTF has dramatically changed this community. It has provided hope in an otherwise grim situation.
The children and families in Burundi, along with our Partners World Vision Canada and MANA, extend our deepest appreciation to our donors and Food for Famine Society for your continued generosity and partnership in our efforts to restore dignity in the hearts of children all over the world. Together we are helping kids live life in all its fullness.