A Love Letter To Canadians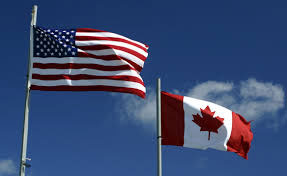 Updated December 16/14: CBC Radio Interview, (Click below to listen!)
The holidays are upon us, time to send cards to old friends whom we don't see much, but remember fondly. This Christmas, even though I am just one American, I wanted to tell you Canadians something: We are sorry. We apologize, Canada! We Americans, your noisy and nosey neighbors, rarely, if ever, pause to thank you for being such all-around decent folk and great neighbors. We are sorry for that, so this holiday season we are going to do something about it; we are sending you this Christmas/thank you card! Hope you like it.
We know you probably get sick of us, your southern neighbors, but you are always nice about it and rarely tell us so. You make it so easy to come and visit, just to drive over and see you … no gates, no walls. Thanks for that as well. We know we are loud neighbors. Our music and our movies are always on and often playing at your house as well as ours. Our cars are parked in your driveways. We are always borrowing and using your trees and oil and stuff like that. We appreciate that. So maybe it's time we just apologized, or at least said thanks. Maybe it's time we walked over in your yard with a beer or coffee in our hand and said, "Sorry about all the nonsense, eh. We are going to keep it down for a while. Oh, and thanks for everything."
Most of us don't realize that you are a larger country than us. In fact, most of us probably don't even know that you are a country. We are not that good at geography. If we were, we'd see that you are a bread basket for us and the world and realize we owe you one for all the food. You are the world's fifth largest producer and you do it with by far the fewest people, making you hyper-efficient. Not only do you make 85 per cent of the world's maple syrup, (wow, thanks for that!) but you feed more Americans than any other friend we have. So we eat out of your pantry quite often and rarely pause to say "thank you." Not very neighborly of us, but sometimes we get focused on our own problems and forget about saying thanks to old friends. Thanks for the food, Canada.
Speaking of food, it's not only through trade and commerce that you feed people, you also give away a lot in foreign aid. In total we give away more than you, but then we have 10 times as many people, and as a percentage of GDP you give more. You are more generous with what you have than we are. Thanks for that!
I am saying all this because I was with you a few weeks ago in Langley, B.C., for World Food Day Canada. While there I got to experience Canadian generosity first hand by hanging out with a small group of Canadians from the Food for Famine Society. It was started by one lady really, Maria Martini, a mom and grandma from Langley, B.C.
Our company makes little packets of peanut butter for malnourished children (RUTF) and Maria called me randomly on my cellphone one day. (Sorry about those rip-off charges for calling U.S. numbers by the way.) She said she wanted to help. That was three years ago and she and a whole pack of generous Canadians from Food for Famine and Langley have been helping ever since. They teamed up with World Vision Canada and so far together we have impacted thousands of malnourished children around the world. It has been an amazing partnership, and World Food Day 2014 resulted in the most generous outpouring yet!
So thank you Canada. No one elected me to speak for the Americans, but I decided to do it anyway. Thanks for being such a good neighbor! Sure there are the obvious things we need to thank you for like sending us Justin Bieber to keep our famous people from being the only ones doing embarrassing things in the media, or for taking in Burger King so you are the new home of the Whopper. But I am talking about the less public things for which we owe you thanks. You have a big heart. And you are generous. We and the world keep eating at your house. You really are so nice. Thanks for that!
Mark Moore
Co-Founder & CEO of MANA Nutrition
Huffington Post, Author
Mark Moore is the founder and CEO of MANA Nutrition. Mark spent nearly ten years working in eastern Uganda, serving as a rural community development worker. He has also served as Legislative Fellow and Africa Specialist in the United States Senate for Senator Mary Landrieu and as Policy Director for the Congressional Coalition on Adoption Institute. Prior to founding MANA, Moore co-founded the Kibo Group, a development organization that seeks to incubate and spin off creative efforts focused on Africa.
#LoveLettersToCanada
Learn more about World Food Day Canada.