Food for Famine Society is pleased to share with you the report below that we just received from our partner World Vision and their colleague Reena who is currently visiting WV Burundi to follow up on our most recent RUTF donation.  Reena was able to film some stories with her iPhone and we hope to provide you an impact report upon her return in early December. Included below is a brief report she sent directly from Burundi.
We hope that you will be inspired by the impact of your contributions and continue to provide your financial support to Food for Famine Society.  Please donate today.
—Report from Reena, from Burundi—
I just returned from the field, where I met with beneficiaries of the RUTF donations! The entire community was extremely grateful for these donations and I was happy to learn of the remarkable difference they made in the lives of the children that were treated.
I wanted to introduce you to Juvent (photo on right).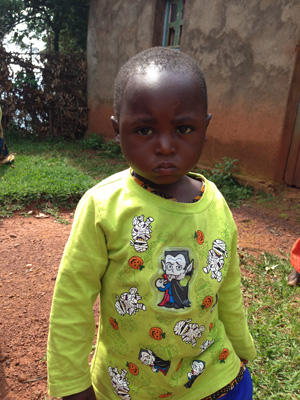 It was such a heartfelt story that I thought I should share it with you guys.Juvent is 4 years old. While he looks like a regular, healthy boy now, this wasn't the case just a few months ago. Juvent was severely malnourished, to the point where his mother, who has 10 other children, did not know what else to do and could no longer care for him. His entire body was bloated, from his feet to his stomach, head and hands. His hair was extremely thin and white. His skin was discoloured and he would not eat. Thankfully, his grandmother stepped in and with the help of community volunteers brought him to the local nutrition centre. At the nutrition centre, Juvent was assessed by the nurse and given the RUTF treatment and started on a treatment plan. After only three treatments (packets), Juvent's symptoms already started disappearing. His hair began to return to its normal color, his skin started to look healthier and most importantly, he was eating. He originally weighed 10kg before the treatment began but by the time he was finished, just a few weeks later, he weighed a much healthier 14kg! As a result, he no longer needs RUTF and has literally bounced back to life. His grandmother even noticed a change in his overall behaviour. Because of Juvent's sickness he would shy away from the other children and wouldn't play. He wouldn't eat and was very selective with food. And since taking the RUTF the grandmother testified that he enjoys playing with other children and eats his food. She is so thankful that this RUTF saved her grandson!
I met other children like Juvent, who are better now after receiving Mana/Plumpy Nut, which was very encouraging. However, I also met with children who are severely malnourished and who have not yet begun taking RUTF. It is with these children that I am reminded how much more work still needs to be done. After witnessing the impact this donation has made here I remain hopeful we will continue to be able to support this community with RUTF and these children.
I look forward to sharing more stories with you upon my return
Warm regards,
Reena