South Sudan Receives Our 16th Shipment!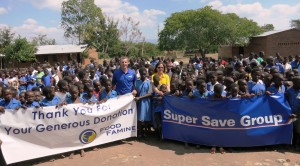 LANGLEY, BC – Thanks to the heartfelt $100,000 donation to Food For Famine Society (FFF) from Billy Vandekerkhove of Super Save Group, 2 shipping containers of Ready-to-Use Therapeutic Food (RUTF) were sent to malnourished children in Africa. The 1st container arrived in the Democratic Republic of Congo on December 23rd, 2014. The 2nd container recently pulled into the Port of Mombasa in Kenya on January 23rd, heading to it's final destination in Juba, South Sudan. World Vision Canada (WVC) will assist FFF with the distribution of RUTF through their Community-Based Management of Acute Malnutrition programs.
The South Sudan shipment arrived in the war torn region within days of a peace treaty being signed by the current President, Salva Kiir and the Rebel Leader, Riek Machar. The 2 leaders were in Tanzania in hopes of ending the raging conflict that has crippled livelihoods, displaced hundreds of thousands of families and reduced access to basic food.
Food For Famine and their partners Mana Nutrition and World Vision, are combining their efforts to reduce the mortality rate among children and mothers due to malnutrition. WVC is also working on teaching the importance of breastfeeding, promoting ongoing health education, nutrition and the use of appropriate breastmilk substitutes. There are proposed interventions to focus on the malnourished children under the age of 5 with more medical screening facilities, as well as more training of health care workers for the treatment of SAM.
Juba is desperate for clean water systems, medical supplies, therapeutic food & milk, blankets, mattresses, essential medicines and health care workers. Food For Famine is working diligently to support this need for RUTF as quickly as possible.
Maria Martini of Food For Famine Society is thrilled to announce that an additional shipping container is close to being filled, thanks to the generosity of local donors. Food For Famine Society welcomes donations at https://www.foodforfamine.org.
Quote: "Our vision is to engage, empower and inspire everyone to make a difference in the world" – Maria Martini, Founder and Executive Director of Food For Famine Society