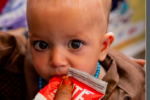 As we celebrate our 10 years of donating Ready-to-Use Therapeutic Food to malnourished children worldwide, we are proud to share this Impact Report from World Vision Canada!
As you know we are very proud to be partnered with World Vision Canada (WVC) and MANA Nutrition in our efforts to help kids worldwide. As a team, we look forward to these impact reports each quarter, with great anticipation, to see the front lines and faces of those we are helping.
To date we have sent over 115 shipping containers of RUTF, providing 99,900 cases of RUTF in 16 different countries. This has provided treatment to nearly 100,000 children with severe malnutrition!
………………………………………………………………………………………………
Personal Story: Family of 3 in Afghanistan
In 2018, over 51,000 Internally Displaced People (IDPs) fled their homes due to hunger and drought. Gulbibi, aged 20, her husband, Mohammad Amin, and their three children were one of these families and now live in a makeshift shelter outside Herat.
Gulbibi's youngest child, one-and-a-half-year-old Nasima (above, front left), was close to death. In desperation, Gulbibi took her to the World Vision mobile health clinic, which provides basic health services to the IDP area once a week, including growth monitoring and free medicine for families. Nasima was diagnosed with severe acute malnutrition. Gulbibi was given Mana RUTF to treat her daughter, and she was trained on proper hygiene practices. Within one month of receiving Mana RUTF, Nasima's weight increased from 8 to 8.5 kilograms, and she is no longer pale and lethargic.
Read the entire FFF & WVC 10 Year Partnership Impact Report here!